Messmer's MOSO® Bamboo Finish
The best finish for the new generation in decking.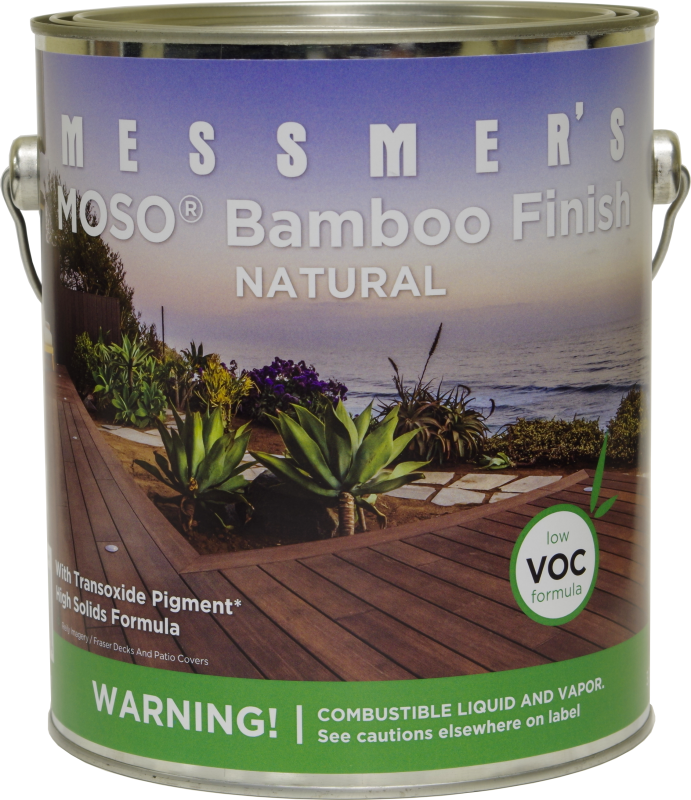 Messmer's MOSO® Bamboo Finish was developed to beautify and protect MOSO® Bamboo X-Treme decking.
Penetrating Oil Finish
For MOSO® X-treme Bamboo and hardwoods
Mildew resistant coating
Very resistant to cracking, peeling, blistering
Coverage: 250 to 350 sq. ft. / GL
All Messmer's products are made in the USA
FAQ
Messmer's MOSO® Bamboo Finish is an oil-based natural finish specifically designed for use on exterior MOSO® Bamboo and hardwoods. MOSO® Bamboo Finish will not raise the grain and provides excellent penetration. It protects and conditions MOSO® Bamboo and other wood surfaces while maintaining a completely natural appearance. MOSO® Bamboo Finish contains fungicides and UV absorbers of the highest quality. It does not form a surface film when properly applied and is not subject to peeling and flaking. To recoat, just clean the wood surface and reapply MOSO® Bamboo Finish. No stripping or sanding is necessary. The product may be used on nearly any exterior MOSO® Bamboo or hardwood surface including decks, vertical surfaces, and trim.

On decks, MOSO® Bamboo finish can be expected to last for 1-2 years. The time element will vary depending on conditions such as sunlight, weather and direction of exposure. Vertical surfaces can see substantially longer life depending on conditions.

Clears with no pigmentation do not offer UV protection or color retention. Our products contain Transparent Iron Oxide pigments which absorb UV radiation while allowing visible light to pass through. This results in a finish that highlights the natural beauty of the material while still protecting it.

This is usually caused by oversaturation of oil on the surface. Remember, the product must be able to penetrate completely to work properly. Remove any excess material promptly.  Allow finish to rest on surface no longer than 15-20 minutes. As MOSO® Bamboo X-Treme is non-porous it will not absorb very much of the finish. Allowing finish to dry on surface without removing excess will result in an undesired appearance.
If there are shiny, tacky areas due to overapplication and failure to remove excess product, scrub affected areas with lacquer thinner or MEK solvent to soften excess material. Wipe dry. If product has cured to the point that this does not correct the problem, excess material must be removed by chemical stripping or sanding. Dispose of clean up materials according to local, state and federal regulations.
Another cause of shiny tacky areas is applying the product to surfaces that are too damp. An oil based product applied to a wet deck will not penetrate very well, as the oil and water don't mix. Make sure that the deck is thoroughly dry before applying any oil based product.

Yes, provided the previous finish has sufficiently weathered to allow penetration of MOSO® Bamboo Finish. Before application, clean the surface with Messmer's Wood & Deck Cleaner.

We recommend surface and air temperatures between 45F and 90F. Avoid application in direct sunlight on hot days. If the surface is hot to the touch, it is too hot to apply MOSO® Bamboo Finish.

Water beading is accomplished by adding waxes or paraffin to the stain. These additives do not last very long and are not good permanent water repellents, in addition to this they interfere with adhesion should you decide to paint over the stain. That's why we don't use them in our products. MOSO® Bamboo Finish fills the pores of the surface, providing excellent water repellency that will last.

We wouldn't recommend it. MOSO® Bamboo Finish needs at least 24-48 hours to dry in good conditions. If a newly stained deck is rained on, the rain can force the stain up out of the pores of the surface, leaving a blotchy appearance. It's best to wait until there is no precipitation expected for 48 hours. In some regions, this may mean waiting for a different time of year to finish the deck.

Yes, MOSO® Bamboo Finish is an excellent choice for almost any exterior MOSO® Bamboo or hardwood surface, including vertical surfaces. Make sure the surface is clean, dry, and any previous coatings have either weathered away or been removed. Do not use MOSO® Bamboo Finish over paints or other film forming coatings, it's designed to penetrate into bare or weathered wood surfaces.

No. The only way to get a shiny coating is by using a multiple coat, film forming finish. We don't recommend clear film forming finishes on decks because they are slippery when wet, they will eventually peel, and they are difficult to maintain and recoat. When properly applied, a penetrating finish like MOSO® Bamboo Finish will not be shiny, it will have a natural, matte look.

Yes, MOSO® Bamboo Finish can be used on exterior wood, including cedar, redwood, pine, and pressure treated lumber. Keep in mind that the appearance of dissimilar woods will not be the same after applying the MOSO® Bamboo Finish, but generally it is very complementary.

IMAGES
VIDEOS