Messmer's Wood and Deck StainStripper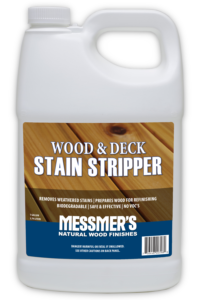 Messmer's Wood and Deck StainStripper is a ready to use solution designed to remove semitransparent stains, wood sealers and coatings from exterior wood. StainStripper dissolves and removes most wood stains and finishes.
Removes weathered stains
Prepares wood for refinishing
Biodegradable
Safe and effective
No VOC's
All Messmer's products are made in the USA
FAQ
Messmer's Wood and Deck StainStripper typically covers 100 to 200 square feet per gallon. Tough jobs may require multiple applications, so coverage may be lower.
Do not dilute. Shake well before using. Spray wood surface with water, then apply StainStripper with synthetic brush or roller. To insure effectiveness of product, keep surface wet with stripper by misting with water. Allow StainStripper to work on surface for approximately 30 minutes. Some areas may require multiple applications or additional time.
Many wood species will darken after stripping. use Messmer's Wood and Deck Part B Brightener to brighten the wood and restore pH balance before coating.
Bleach is not recommended for cleaning wood. It destroys the lignin which connects the wood fibers together and gives the wood an unnatural washed-out look. Bleach should only be used to remove mildew before applying a wood finish.
Place a drop of bleach (sodium hypochlorite solution) on the wood. If it lightens, it is probably mildew. Remove it with a solution of one part household bleach to two parts water, then rinse with water. If it doesn't lighten, it's probably just dirt, or wood extractives. Use Messmer's Part A or WD Liquid to clean the wood.
Decks are hard to keep looking new. If your car sat outside for a year without being washed, would it look new? Wood traps dirt, dust, pollen and airborne pollutants, so you must remove them with a quality deck cleaner.
We recommend cleaning your deck at least yearly. Twice a year is better. Don't reapply stain too frequently, this can cause blotchiness and shiny spots.
Mix concentrates with water as per the label instructions, then apply with a garden sprayer or mop. After about five minutes, use a push broom or brush to scrub the wood surface. After allowing the product to work for twenty minutes, rinse with clean water.
Yes, when label instructions are followed properly.