Many owners of composite decks have been disappointed in their appearance as they weather over time. Some of these materials quickly fade to an unattractive gray color, but you can restore your deck's appearance with Messmer's Composite Deck Finish.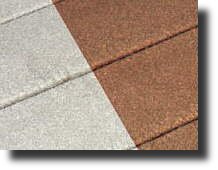 Materials List
Messmer's Composite Deck Finish, one gallon for every 200-250 square feet of deck surface
Composite Deck Cleaner (omit if the deck is already cleaned)
Bristle brush or roller and roller pans, 3/8″ nap roller cover
Do not begin until you have read and understand all instructions. If you have questions, call us toll free at 1-800-731-3669, weekdays 8-5 Mountain time. Do not apply if rain is expected within 48 hours. In certain climates you may have to wait for a different time of year to do this. We recommend doing a small test area on your project to insure your satisfaction with color choice and appearance before proceeding with the entire job.
Clean the deck: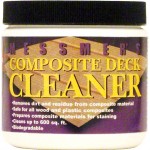 Sweep excess debris (dirt and leaves) off the deck. Clean the deck with Messmer's Composite Deck Cleaner, or another high quality wood cleaner of your choice, then rinse thoroughly with clean water. Make sure the deck surface is clean, dry and in good condition. You may need to wait a few days for the deck to completely dry depending on weather conditions. Cover plants, grass, concrete, trim, and any other areas you don't want stained.
Apply the composite deck stain:
Stir product thoroughly. Make sure that all pigment is mixed evenly into the stain. Apply one coat of Composite Deck Finish following label directions. After 30 minutes, brush or roll out any excess product puddled or pooled on the surface of the deck. If excess product is not removed, sticky, shiny spots may remain on the surface.
Clean-up:
Following label directions, dispose of waste including roller covers and brushes in a water filled container. Seal the container and dispose of it properly.
Frequently Asked Questions
Q: How long will the product last?
A: Typically Composite Deck Finish needs to be reapplied to a deck every one to two years. The length of time will vary depending on the type of composite decking, the way the deck is constructed, which direction it faces, the amount of foot traffic on the deck, and your local climate and sun intensity.
Q: How can I avoid shiny, sticky areas after application?
A: Be sure to wipe up any excess product about 30 minutes after application. Composite Deck Finish is a high solids product, and if overapplied it will not just evaporate away.
Q: Why is it important to clean before applying CDF to a deck?
A: If you apply Composite Deck Finish to a dirty surface, the deck may turn dark and dingy. The oils and resins in the Composite Deck Finish will entrap the dirt and make it impossible to clean. By cleaning the deck with a good quality cleaner like Messmer's Composite Deck Cleaner, you are properly preparing the deck for staining with Composite Deck Finish.
Maintenance
All exterior surfaces collect dirt, dust and contaminants. It is necessary to clean them periodically to keep them looking good. We suggest using Messmer's Composite Deck Cleaner at least twice a year for periodic maintenance cleaning.